MAGNIVA Classic + by Sil-All is a high-specification forage inoculant that is suitable for all silage types and DM.
MAGNIVA Classic + by Sil-All utilises three specifically-selected bacterial strains plus high-activity enzymes.
• The combination of strains drive the pH quickly to completion above and beyond that of any strain individually.
• They work together with an enzyme package to quickly and efficiently preserve difficult to ensile forages.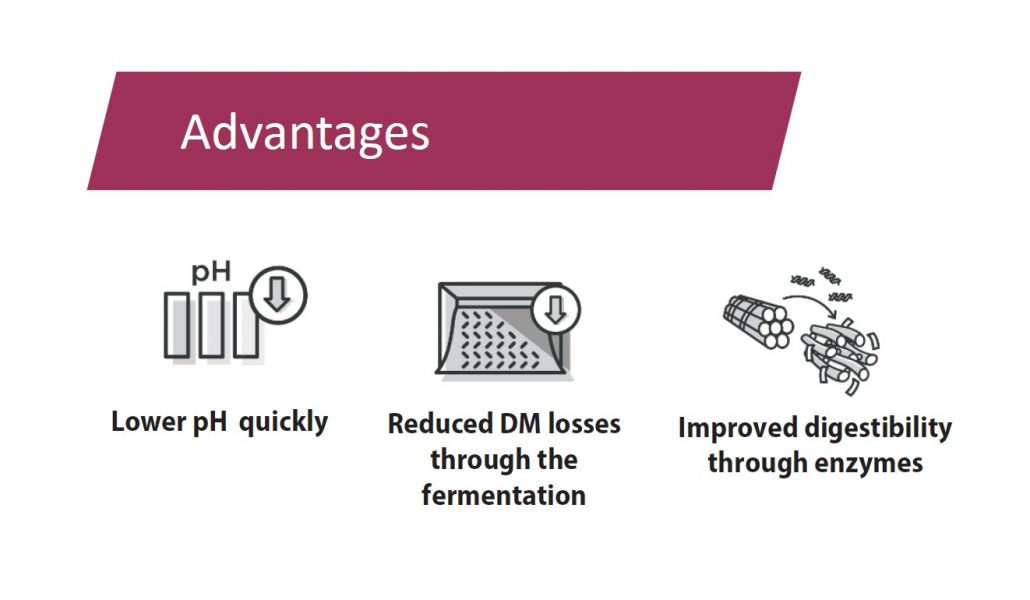 How it works
P.pentosaceus NCIMB 12455 quickly drives the fermentation, lowering the pH to around 4.5. L.plantarum MA18/5U drives the fermentation to completion at around pH 3.8-4.0. Dependent on DM, enzymes provide the release sugars from the forage, ensuring a quick fermentation plus help increase silage digestibility.
Silage made with MAGNIVA Classic will have reduced dry matter losses and higher nutritional value can help you maximise the energy and nutrient content of your silages for a well-preserved and high-quality feed
Why it matters
P. pentosaceus NCIMB 12455 multiplies rapidly over a wide temperature and moisture range to quickly dominate the fermentation. The use of adapted acidifying inoculants, designed for grass forages, accelerates the acidification process, thus limiting proteolysis. A combination of bacteria and enzymes helps to drive a fast, efficient initial fermentation and puts you in control of silage quality.
To answer the needs of today's rapid harvests and ensure uniform application of the product, MAGNIVA products contains High Concentration (HC) Technology, developed by Lallemand Animal Nutrition.
Improved stability and suspension providing better homogeneity
Highly soluble product for better mixing
Extended tank life for bacteria when mixed
Approved technology for low volume applicators
Ability to apply at variable liquid volumes
Sachet Size

MAGNIVA Classic is available in 200 gram sachets, which treat 100 tonnes of fresh forage
Shelf Life
MAGNIVA Classic will remain viable for 24 months from date of manufacture, in original packaging, when stored in a cool (optimal < 4°C) dry place.
| New Code | Description |
| --- | --- |
| 97020423 | Magniva Classic+ (Water Soluble) sachets |
| 97020424 | Magniva Classic+  Granulated (20kg) |
customerservice@Agri-Novatex.com.au